New ways of harnessing patient data can transform the way pharmaceutical companies interact with patients and providers – and ultimately help improve adherence. ConnectiveRx knows this all too well and has plenty of insight and expertise on the most innovative use cases for your data.
Check out some of the ways our experts feel data and analytics can be most beneficial for your brand.
Want a more personalized experience? Reach out to us directly!
ELITE 2021 Leader of the Future Kylie Hall of ConnectiveRx
When Kylie Hall came to ConnectiveRx in 2019, she brought lots of experience…in groceries. ConnectiveRx's mission to help patients navigate a complex healthcare system appealed to Kylie, and the rest is history!
Navigating Changes Along the Patient Journey
Brands can help mitigate gaps in treatment for their patients by working with a service provider that is skilled in handling managed care coverage changes. The ConnectiveRx data platform has the ability to track the patient regardless of such changes.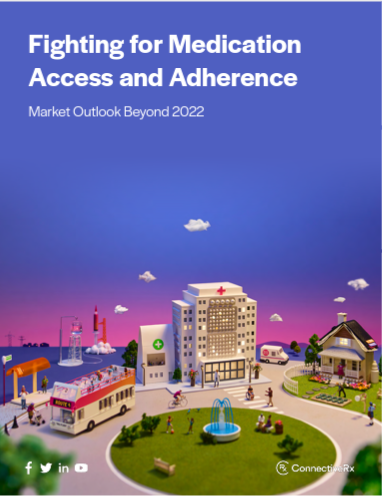 Fighting for Medication Access and Adherence: Market Outlook Beyond 2022
In this report, we examine the current healthcare landscape and highlight five trends that are indicative of how market changes over the past two years have impacted providers, patients, and brands.
Table of Contents:
Hub services take the pain out of prior authorizations
Now is the time to flex with your digital toolbox
Pharmacists - the public's most accessible healthcare provider
Affordability programs integrated with hubs put medications in patients' hands