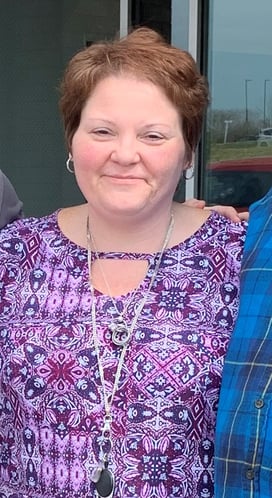 Mary Grace Singleton, Program Manager, discusses the importance of compassion and accountability as a leader, how music helps her create a positive work atmosphere, and how her Team motivates her.
What's your role at ConnectiveRx? I am the program manager over one of our programs, Biogen, and my team's responsibility is to conduct benefit verifications for patients. So, we're one of those steps in that life cycle to get a patient onto a specialty product and a healthier lifestyle. We bridge that gap from the doctor's offices and the sites of care by completing the benefits investigation. 
What do you enjoy most about your career? The main thing I love about what I do and what led me here is working for the patients. I just celebrated four years with ConnectiveRx on April 16, and prior to CRx, I was with a competitor for a little over nine years. I have 13 years in Hub services. Prior to that I spent almost 10 years with the Blue Cross Blue Shield insurance here in Pittsburgh. While I enjoyed what I did at Blue Cross Blue Shield, I was working more for the client. I've worked with wonderful clients. But when you're working with patients (especially in my previous role), you get firsthand experience. My team took incoming calls from patients, and sometimes patients would thank us because we were able to help with cost support. We were the liaison in the patient journey, which is rewarding.
In my current role, although we're not talking to the patient, what we're doing is just as rewarding. I tell my team as they're making their calls, to think of it as if you're making a phone call for your parents. Because for your parents, you want those benefits, and you want them to be accurate. That's how we have to think of the patient: as family. It puts what we do into perspective. We use compassion to do the best we can to help patients be healthier.
What is your thought process for decisions you make as a team leader? I think there are two parts to that. First, we have asks from the client. They have expectations of us and then I have expectations of my team. I think to manage expectations, there's got to be transparency. I have to understand what the expectations are from the client, then I need to ensure that my team understands them. And that's what I ask of them every day; to come in and meet those expectations.
Everything that I do impacts my team. If I agree to something that the client needs, I make that commitment, right? That's a decision. But then I have to trickle that down to the team, because they're doing the work. I have to sort of bid a little bit. Like, name that tune, "I can name that tune in seven days." I do a similar estimate for client projects. "Yeah, we can get this project done in X timeframe." So, I'm positively pushing the team by a decision that I made. And they'll tell you, "Oh no MG, I'm good on work, but we can do more."
As for my decisions, it's ensuring when the client asks for something that I give the appropriate answer. If you don't have room on your plate, please don't commit to more. You need to be honest and say "well, I don't know that I can have that done next Friday, but I'm sure by this date…." As a leader, it's really about understanding timelines. We have turnaround times, and I want to make sure I'm making the right decision, not only for the client, but for my team.
During CRx's Women's History Month panel, you were mentioned as a "woman of impact" and inspiration to others. Who inspires you and what did you learn from them?
I learned years ago from a wonderful, wonderful woman at my previous job about choosing your attitude to start your day. She talked about how she started her day, and it has stuck with me. Before my day starts, I'm thinking of 101 things. But I can tell you when I walk in that door, and if I can't make that decision when I walk in the front door, I make it when I open the door or I step off the elevator: I choose my attitude. Because if you take an attitude that might not be as promising or positive into work, chances are that's going to be the direction your day goes.
My biggest inspiration, however, is my mom. She was the fixer upper. She was the baker. She was a phenomenal cook and she just always wanted people to be happy. That was all she wanted to do. And she loved to laugh. She loved to joke, and that's all I was around. That's what I was raised with. So that's who I am today. But at work, there is a separation and expectations to follow. I've learned how to earn someone's respect because in my role, sometimes you have to deliver messages that aren't as friendly. But they respect that. They understand that this is a professional environment and there are things we need to do. There's also that lighter side, and I like to bring it all. This is who I am. And I'm thankful because they allow me to be me here. In some places, that isn't accepted. But at CRx, they promote this.
What are some of your favorite tactics to foster a positive team environment? I like to motivate. I like to have a good time because we work in a production environment, which can be very difficult. We want the team to reach X number of cases a day, which can also be challenging. So, how do you start your day? I tell everyone to start that day with a positive attitude. Certainly, it can change, but start your day that way. I start the day with a dance party. I tell everybody to dance like nobody's watching. The other day, I probably had about 25 of us dancing to Rob Base, "It takes Two." Another time, the song was "Push It." There we were at 7:45 am, really dancing to Salt-N-Pepa. And it was wonderful. And everybody just gets incredibly happy about it. And you can go back out there, at 10:00 am, and when they see me, they kind of relate to what we did two hours ago. It just brings an immediate smile. Or they'll say "MG, I can use a dance move." And guess what? I'll give them a spin. It's OK to let that down a little bit if it's going to pick somebody up.
We also had re-entry. We've all been at home for two years during this pandemic. We were able to work a few days at home and a few days in the office. It was great. But as we started to bring more folks back in, it's different. You're in the comfort of your own home and haven't had to drive or prep to come into the office. In the beginning I thought, "what can I do to make them feel welcomed and comfortable here?" So, I decided to bring things that my team may find in their home. On my desk, there's a candy bar for when they need a snack. It's OK to come to the boss's office and have a snack. In fact, she wants to see you. She wants to say, "how is your day?" Because I go out there and I'll ask them how their day is. I may say, "oh man, I think you need a Swedish fish." So, they come in and they'll take little bags of candy. I try to keep little snacks and bags of goodies. I like to have fun things in the office. Something that just lightens it up. All my teammates have a purpose here. They know what their purpose is and that will never fade. But it's okay to have days where you're not okay. During the first week of re-entry, we made breakfast for them. I was the guest chef. We had a nice spread of breakfast throughout the week. It was absolutely amazing. And I can tell you that my expectation was that my team was able to maintain production. They didn't just maintain production, but it improved. Our statement that "together, we're better" is actually true. It really is. And even with the distractions of having breakfast, we didn't skip a beat. I'm really proud of that. Now, they come into work and in just a few weeks on site, they feel like they've been here forever. And that's what I wanted. I wanted them to feel like this was their spot, and this is where they were supposed to be. And it's happening.
What keeps you inspired in your role at CRx? My team motivates me. I don't wake up every day thinking, "Oh yeah, I want to make this drive to work. Yes, I want to sit in traffic." But when I think about going in and think "hey, does anybody have any great plans for the weekend," and people will share in the Teams chat or in person, I look forward to hearing how their weekend went, how their wedding was, etc. They motivate me to be better.
Jennifer Morris (VP, Product Management) came in last week and brought me a trinket along with this little card that says, "you are enough." When I turned it over, what it actually says is "if only you could see your strength the way I do." That meant a lot to me. Because sometimes I'm not that same person that everyone sees here, because I'm human. So, what my team and CRx do for me in supporting me, allowing me to be me really makes me a stronger person. I can't thank them enough.
Which ConnectiveRx value resonates with you the most and why? I have a tie if I can. Because I have so much compassion for people, whether it be my team or the patients. It's just a part of me. And I do care. The other one I value, and you can ask anyone on my team, is accountability. I think that it builds your character. We're human. We're going to make mistakes and it's okay to make mistakes. But I tell people to learn from that mistake, raise your hand. I did that. Own it. It's OK to own something you did wrong. When you do that, I just think it helps you as you move forward.
Also, when I talk about accountability, I tie recognition with that. So, when my team is accountable, I also let them know when they were accountable for something great in their work. When you show somebody their value and their worth to a team, that helps. They're accountable for good and could be accountable for a mistake. But in the end, it's better for them. It builds who they are. So, I think accountability and compassion really resonate with me. Of all of our core values, they're my top two.
When you're not working, what are we most likely to find you doing? I have this little shop near my house called Brushes and Beans and I paint ceramics. I love to paint ceramics and the owners of the shop are fabulous folks. I guess you can imagine that I like to dance also. And when I say dance like nobody's watching, my son will come in and he'll say, "mom, the kitchen, the window." And I'm like, "yeah, I'm in the kitchen and that's a window." And he'll say, "people can see you" and that's OK. Let them see me. I sing and I dance because that's me. I don't think I go a day without music. Because I need that. It makes me smile. It makes me tear up every now and again. But it's a part of me.
One other thing that might shock you: I love to cook. I love to cook for people. I can sit down to a PB and J sandwich and I think it's gourmet. Something comes out in my Italian heritage, where I have to put out a spread of food, just as my mom did. My worst nightmare would be to run out of food or not have enough for everybody. So, I enjoy those things in my life. Then there's just those nights where my son and I will just binge watch something with popcorn (it's a fight over the bowl popcorn, but I win all the time because I'm Mom!) But that's kind of who I am. I'm just an average person and I appreciate that people find me to be impactful, but I don't think they realize how impactful they are to me. It's an honor. It's an honor that they say that I'm impactful, and I'm blessed, so thank you, really.
Posted on: April 27, 2022