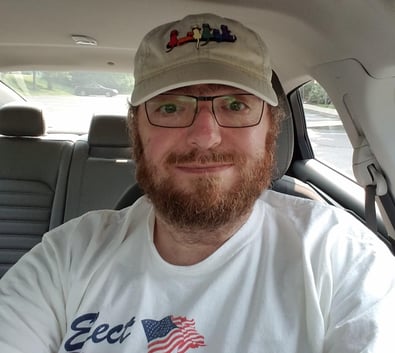 Miles Newell, Patient Support Specialist, discusses why he enjoys advocating for patients, his inspiration found in Betty White, and what support in the CRx family means to him.
What's been the best part of working with PROUD@CRx Employee Resource Group (ERG)? I volunteered this month at the Pittsburgh Pride parade. It's just so much fun to see people outside of the office; to get to giggle and enjoy each other. One of my supervisors, who I'd never met in person, is also a member of PROUD and at the parade. It was nice to be able to hang out with her in person. We found out that we're really funny together!
Pride is my Superbowl. I'm originally from Minneapolis, and in Minnesota, Pride is HUGE there. We march for two miles downtown to a park and the whole park is full of vendors. Everybody just kicks out the grass and has picnics. So, I'm used to that family atmosphere. When I got to Pittsburgh, the first thing I did was connect with what was then Delta Foundation, and they put on an excellent Pride month.
During PRIDE month I think I'm a little bolder than usual in terms of connection with people at work. I look around and want to make it safe for someone else to say, "Hey, this is who I am too," Displaying a rainbow flag or other visual cues gives people permission to be themselves and I really like that ConnectiveRx supports that.
What's your role at ConnectiveRx? I'm a Patient Support Specialist, and I do data entry for the Otezla program. I process forms from the doctor's office that are applications for patients to join our copay programs.
What led you to pursue this career path? Prior to CRx, I've had many jobs. Previously, I was a security guard at Pittsburgh International Airport for a major shipping company for 2 ½ years. After that, I went back to an office job and worked for Publishers Clearing House, doing customer service. I was hired at CRx in October 2021 as a contractor and became a full-time employee in February 2022. While my background is broad, it involves customer service in one facet or another.
What keeps you inspired in your role at CRx? Advocating for patients is the best part of my role. In my early career I was a nursing assistant, so I've always been "patient forward." When I interviewed for CRx, I was amazed because of the group of companies that came together to make ConnectiveRx. For anyone who cares about patients, this is THE job: I get to advocate for patients every single day, whether I'm processing faxes or calling doctor's offices. I help them get the medication they need and the ability to pay for it. My job is so rewarding because I know that the people that I processed the forms for are one step closer to getting not only their prescription paid for but getting their prescription for the next year. I've had my own battles getting medications. And so, I would love to have had somebody like me on the other end of the phone saying, "You know what, I'll take care of that for you. We'll get this done." Helping people makes me feel good.
Which ConnectiveRx value resonates with you the most and why? It's definitely being customer centric. I think being on medication is tough enough, but we make getting it the easy part. I'm all about it. I'm all about taking the stress off the patient and just saying, "You know what? we're gonna take care of you, we got you." And that's not a value you see in business very often. Everything's gotten pretty corporate, but that's the beauty of this company. This company is nose-to-nose with the patient offering support. One thing that this company does really well is customer service and putting the patient first.
Who inspires you and what did you learn from them? Betty White. She had a super long career and made millions of people happy. She got to do what she loved every minute of [her life] and think of all the animals that she's helped by being a bold animal activist. a really positive person. To me, she's kind of my gay touchstone because she seemed to accept everybody and love everybody.
What are some characteristics from your career that you also use in your personal life? At CRx, my Teammates are like a family. Because of the support here, I really take a bigger and deeper interest in other people. I noticed I've been much more outgoing in the last six months, and it has everything to do with ConnectiveRx. All the wonderful things that I experience every day at work and take them home.
What does showing up to support the LGBTQ+ community look like for you? Having supportive resource groups, such as PROUD@CRx, is encouraging because I'm the age where I remember when there were no ERG's or support groups. Once, when I was in high school and became friends with someone, my assistant principal pulled me aside and said, "if you keep hanging out with this guy, they're gonna think you're queer." And that absolutely broke my heart. I've always remembered that. Now, I've been married to the man I love for 22 years. Depending on where you live in the country, kids in school are now able to discuss their queerness and have support. If somebody gets out of line, there's somebody there to say, "no, you can't do that." If you show up and stand up for me, I'm standing up for you and we're all gonna be good together.
When you're not working, what are we most likely to find you doing? Attending to my dog babies! I have a pug mix and a Shiba Inu mix that are both rescues (thanks to Betty White!). I'm also involved in my local community. I get to help shape the people that are going on to Harrisburg (the state capital of Pennsylvania) and Washington. As a community, we can do anything if we get together, and we don't let anything turn us against each other. And I think that's the biggest thing for PRIDE. When I looked at the people at the parade, there was no group that wasn't represented. Old, young, tall, short. Everybody. So yeah, that's what I do for joy; it's to just get out there in the community and simply be me.
Posted on: July 5, 2022