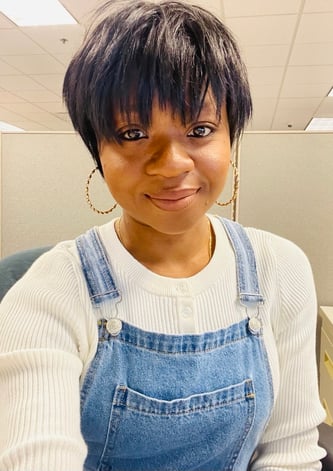 Our first CT feature of 2023 begins with Ometere Topah: a Supervisor in Patient Support & Affordability Services. She opens up about her favorite ways to spend time with family, lessons learned as a supervisor, and values that inspire her work at CRx.
How did you get here today, career wise?
I didn't think I would ever work in Pharmaceutical or any of that sort. I moved to the United States in 2009 as a student to pursue an MD (Doctor of Medicine). I started by completing my Bachelor of Science in Biological Sciences at Southern Illinois University in Carbondale, after that, I pursued my master's degree in public health at University of Illinois. After completing my master's, I had a life changing event and moved to New Jersey to start a family. I just casually applied to a staffing agency as a contractor, and they called me to interview with CRx as a Customer Service Representative. I accepted and thought "OK, this company is good". I remember getting advice from one of my supervisors at the time, Eben Quayenortey, who said to me, "there is room to grow in this company, and I want you to grow". I was converted to a full-time employee and then a year after I started, I transitioned to the Quality Assurance (QA) team. I spent two years in QA and was promoted to my current position in September 2021. Now I keep striving for success within the company.


When you have a great team with positive energy and mindset and you tell them, "This is the goal; this is our mission as a company, as a team", they're able to deliver the desired results, and we're all able to celebrate our success.
What's your role at ConnectiveRx?
I'm one of the supervisors at our Fairfield campus, under Patient Support and Affordability Services. My focus area is in the EOB/claims processing department. A part of my day-to-day responsibilities include monitoring and reporting claims data to ensure that our client SLAs (service level agreements) are met. This will include adjusting resources where necessary, monitoring queues, and conducting coaching sessions. I also supervise 18 employees: managing attendance, performance, approving timecards, handling escalations. There's never a dull moment.


How have you built a community with your colleagues in Fairfield?
We're here together every day and I work to keep the energy going with the team; ensuring that everyone is comfortable, and SLAs are met. When you have a great team with positive energy and mindset and you tell them, "This is the goal; this is our mission as a company, as a team", they're able to deliver the desired results, and we're all able to celebrate our success.
Another thing is the patients; when I look at CRx and its mission I say to myself "I'm actually changing someone's life out there." So just knowing that we're changing the lives of so many people with our clients' programs is a huge part of holding us together as a team and community.


What are some characteristics from your career that you also use in your personal life?
This is a good one because I manage my little girl, but I'm learning to listen to her. It's something I've improved at work, listening to my associates. When speaking with my direct reports, I take notes, listen to them, ensure that I understand the information they are sharing with me, most importantly, expressing empathy. So, when I am speaking to my daughter, significant other, family members, or friends, I consciously tell myself to actively listen.


Which ConnectiveRx value resonates with you the most and why?
I'd like to say one answer, but I must give two. The first comes from my experience starting as a customer service representative to eventually joining Quality Assurance. During that transition, I think compassion was one of my greatest values. I would say that compassion is one of the values that resonates with me because it's something that I built over time.

But then when I look at my growth in the company, I think being 'collaborative' is another good fit. Last year I had a discussion with Mark Pawlak during one of our company events, and I said to him "it's very interesting how many departments work in this company, all together, to achieve that one goal of servicing the customer." I've worked as a customer care representative, directly speaking to the patients. I've worked with Quality Assurance, ensuring that the processes and procedures are followed. I've worked with Patient Affordability leadership and ensuring that we're managing our people while ensuring resources are utilized where needed. In my current position, I have meetings with several stakeholders: program management, IT services, program development, and project management. I would say that collaboration is one value that we execute very well at ConnectiveRx.

Through several conversations with my mentor, I learned to communicate better and how to coach effectively for better results.
What is the most important lesson you've learned about being a supervisor?
Being a supervisor is the most unique role I've had in the company thus far. Managing people and managing different personalities can be a fulfilling experience in the sense that it teaches you a lot about yourself. It teaches you to be selfless, compassionate, to always have others in mind before making any decisions. I would say the role has positively changed my life.


How has your experience in the ConnectiveRx mentorship program helped you?
I joined the mentorship program shortly after my promotion to supervisor, hoping to learn and sharpen my leadership skills (this was my first leadership position ever). I got into my team, and realized I had an opportunity to learn how to better serve and help my associates. So, when the mentorship program launched, I joined to learn the different aspects of being a leader.

Through several conversations with my mentor, I learned to communicate better and how to coach effectively for better results. The program-sponsored mock interview exercise was very helpful too. I learned how to navigate the mechanics of an interview, especially when applying for a people manager position.

As a supervisor, who inspires you in your new management role?
I would say that my colleague, Nicky (Nikaulis Valera) does. She inspires me and keeps me motivated; she's been in the team for a longer period than I have, so I seek advice from her often. I'd also say Eben Quayenortey, the VP of Patient Affordability in Fairfield. He is always willing to guide and coach me when I need help with a difficult issue. My leadership team: my team leads are so amazing. It's so hard to explain, but we work as great as a family. When we do things like overtime, how we're able to communicate and keep each other connected. I think that keeps me motivated.

Also collaborating with other teams is vital. I have learned a lot about the program details working very closely with Cory Braun and seeing how passionate he is towards our customers. I've had the privilege of working with several departments to see their different challenges and opportunities--how they/we have collaborated to drive better results is inspiring.

What is something you're looking forward to in 2023?
I look forward to growing in my career. Looking forward to this Blizzard season, I've learned a lot this past year, and I'm excited to put my new skills to use. I'm driving our team engagement to ensure that we put our customers' needs first. I'm Looking forward to fun company in-office events in 2023. On a personal level, one of the things I also look forward to is traveling more with my family.


When you're not working, what are we most likely to find you doing?
You know, it's interesting because I never have a dull Saturday. When I'm not at work, I'm hanging out with my family. Weeknights are for homework and end of day recap. On weekends, my significant other and I try to have a date night or family night. Sundays are for church and after, we tend to talk about what we learned. We always have something going on. We are very family focused so we tend to do a lot together - chores, movies, outings, and small trips to different places around the state.
Posted on: January 17, 2023