Client CMI Media Group took the stage at MM+M magazine's annual Transform event for a panel called "Digital Tactics that Engage Prescribers and Patients Where They Are." Kristen Tappan, SVP Media at CMI, joined Mary Beth Navarra-Sirio (SVP, Product management) and
Laura Blair (SVP, Business Development) from ConnectiveRx to illustrate benefits and best practices of EHR messaging programs and to also explore continuously evolving ways pharma can reach patients and doctors in-workflow.
Download MM+M's editorial wrap-up of this session.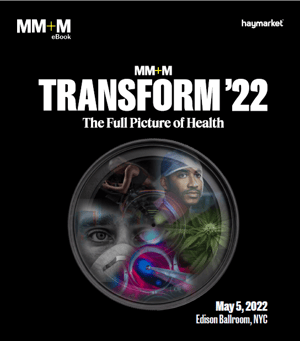 "As we emerge from the pandemic, being on the forefront from a marketing standpoint and finding where we can insert ourselves in the conversation in a way that's helpful to all of our customers is going to be key."

- Kristen Tappan, SVP Media
CMI Media Group
About the program:
MM+M Transform '22: The Full Picture of Health conference was held in-person on May 5, 2022, for the first time in three years. Over the course of 10 panels and presentations, more than two dozen industry execs and experts weighed in on of-the-moment issues such as corporate wellness, increased attention to mental health, the emerging cannabis market, patient adherence and developments in digital health. The lively, informative discussions offered timely insight on wellness trends and the evolving patient journey, all of which are highlighted in this eBook with key takeaways.
Posted on: July 15, 2022