As published by PM360 magazine | Read the full article
By PM360 Staff and David Fidler, Senior Director of Product Innovation, ConnectiveRx
ePA and First-Fill Copay Program | Teva Pharmaceuticals and ConnectiveRx
Delaying medication approval by even a few hours impedes patient access to treatment and increases the risk of abandonment. While responses to traditional prior authorizations (PAs) can take days or weeks, electronic PAs (ePAs) can be determined in just a few minutes when the required information is submitted quickly and the decision is straightforward.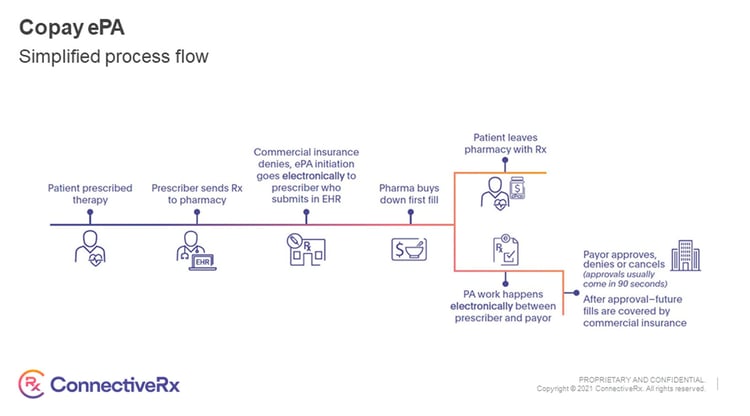 Since Ajovy, a medication designed to treat chronic migraine, requires PA nearly 100% of the time, Laurence Fowler, Travis Kenney, and their team at Teva Pharmaceuticals partnered with ConnectiveRx to implement an ePA program and beneficial copay program. Using the ePA solution, physicians are alerted when a copay card is adjudicated at the pharmacy that PA is required and can quickly complete the necessary forms—all from within their existing EHR system. Patients then receive automatic approval, with no roadblocks at the pharmacy.
Teva also offers Ajovy patients a copay card to help them afford the medication. If initially rejected for PA, patients can use the card pending authorization and go home with the medication, rather than being forced to wait. ConnectiveRx can see when a patient has used the card to overcome that PA rejection and then a representative will reach out to the prescribing physician to determine if they already submitted the necessary PA documentation and if not remind them to do so.
Since officially launching last year, the program has performed exceedingly well in terms of patient acquisition and physician satisfaction while providing bottom-line cost reductions to Teva. In fact, of the outbound calls made by the call center team to physicians to create awareness about the program, 90% have been deemed helpful and valuable by physicians.