AstraZeneca Brand Leader Earns a Trailblazer Award for ConnectiveRx Hub Program Utilizing Non-Commercial Pharmacy for Enrollment
As published in PM360 magazine, by editorial staff, in coverage about the 2021 Trailblazer award winners.
Dave Guiga, Head of Respiratory & Immunology Portfolio Acceleration, AstraZeneca
The doctor and patient chose the best therapy to treat a debilitating chronic condition. The next step is to start therapy, but this treatment is a specialty medication. Unfortunately, it can take an average of two to four weeks to start patients on these treatments, in some cases even longer. Nonetheless, the patient is left untreated and often times out of the loop of what can feel like a nebulous process.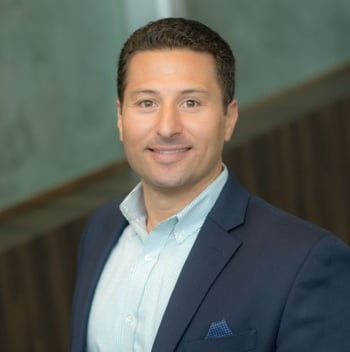 Why such a stark difference between the time to first fill for retail medications compared to specialty? In addition to requiring special handling and administration requirements, these products often have mandatory, manual steps that must be completed before therapy can begin, such as fax-based prescription and enrollment forms, phone-based benefit verifications, disparate spot solution-based prior authorizations, and Rx transfers to an in-network specialty pharmacy. Sadly, this deficient process causes rework and delays.
What if there was a better solution? With a penchant for pushing boundaries, taking smart risks and bridging unexpected teams and thought leaders to challenge the status quo, Dave Guiga sought to find a creative solution to the challenges many healthcare providers (HCPs) and patients face when starting a specialty medication.
A New Way to Specialty
While non-commercial pharmacies (NCPs) primarily support "free good" programs (i.e., clinical trials, bridge programs), Dave discovered that NCPs could do more to support providers and their patients. He partnered with ConnextiveRx's Careform pharmacy to couple e-prescribing from HCPs' existing EHR workflows with the NCP's ancillary e-services such as e-Prior Authorizations and e-Benefit Investigations, as well as direct-to-patient text messaging to decrease provider administration burden as well as time to first fill for the patients who are awaiting their medicine.
After receiving a standard e-prescription, the NCP uses automated tools and data sets to determine the patient's coverage, and triggers a prior authorization within the provider's EHR when required by the health plan. In parallel, the patient is kept in the loop on these normally obscured and mysterious processes with updates via text messages. Once the prior authorization is approved, the Rx and activated patient savings offer are transferred to the appropriate specialty pharmacy.
After a small pilot program in Q1, the new methodology showed that 96% of the time, patient benefits could be verified in under one minute, and the complete process from eRx to specialty pharmacy transfer could be completed in under two hours, saving critical time in the end-to-end fulfillment process. The program has since been rolled out nationally and has become the primary method for identified HCPs to get their new patients initiated on therapy.