Jere Jameson, Senior Benefits Investigation Specialist and Marine Corps veteran, talks about his career, the impact military service has had in his life, and the most important thing people can do to honor our nation's veterans.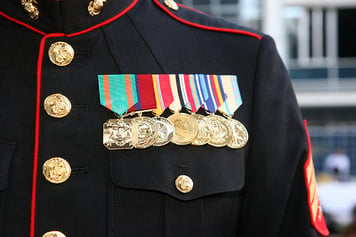 What's your role at ConnectiveRx? I'm a Senior Benefits Investigation Specialist. I help with verifying insurance coverage for potential new patients and re-verifying insurance coverage for existing patients in order to process patient prescriptions.
What was your role in the military? My military service began immediately after high school. I served in the United States Marine Corps June 1968 through April 1974 during the Vietnam War. My Military Occupational Specialization (the role I played in the military) in Marine Corp Aviation was an A4E Skyhawk mechanic. I am a decorated Vietnam War Veteran.
What's the biggest impact your military service had on you? I learned the value of loyalty, patriotism, love & respect for God & country, to honor our nation's history and traditions, and the responsibility that comes with leadership and respect for authority.
Do you apply anything you learned during military service to your career today? I have had several careers and various occupations over the years and the values I learned as a Marine have proven to be essential to my success in my career, including here at ConnectiveRx.
Which ConnectiveRx value resonates with you the most and why? The ConnectiveRx value that resonates with me is "customer centric." Having been in insurance for a number of years before coming to work for ConnectiveRx, I began to realize how challenging it can be for patients to work with insurance companies, even when the companies emphasize the importance of customer service. Bottom line, I want patients and providers to have the security of knowing that we have obtained accurate benefits.
As a veteran, what's the most meaningful way people can show their appreciation for your service? Donate to veterans' organizations that assist catastrophically wounded veterans of all wars.
Posted on: October 29, 2021