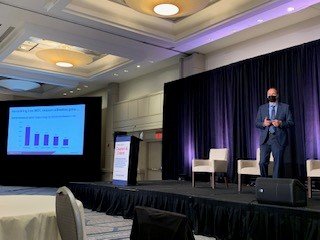 In what could be a glimpse into the new normal for conferences, CBI built a robust program on the current and future state of patient affordability programs. Two days of live panels, networking, and exhibits in Philadelphia were followed by two more days of virtual sessions featuring some of the brightest thought leaders in the copay space.

Here are some of the biggest takeaways from the event:


The ongoing pandemic was a major area of discussion. Conference chair and ConnectiveRx SVP of Market Development Chris Dowd talked quite a bit about the current state of patient savings. Restrictions on drugs continue to increase despite COVID's ongoing presence, but many programs are allowing claims on these drugs to be covered by copay programs. This continues a trend that has taken shape in recent years. Further, a recent survey conducted via ConnectiveRx's PDR (Prescribers' Digital Reference) revealed that claims by consumers are continuing their shift to web-based and mobile claims. Mobile in particular has been the channel that has increased the most in recent months, but the web still boasts the most claims. Read more on these findings here.

The new CMS rule on patient affordability programs and their connection to increasing anti-accumulator rulings across the country was also a major topic of discussion. Possible solutions for manufacturers could include lowering the offer amount to patients to avoid best price impact, have patients pay out of pocket then submit a rebate claim, or work with PBMs to ensure all are compliant with the new rule. ConnectiveRx will continue to monitor this ongoing evolution in copay programs and support our pharma partners and their patients.

Copay program design trends continue to evolve in exciting ways that benefit brands, patients, and pharmacists. The panel all agreed that digital access to coupons and other savings tools have been a game changer. The patient user experience is streamlined because now they can access coupons from their text messages, rather than having to print out and bring the document to the pharmacy. This process allows for much easier compliance around auditing and monitoring requirements for brands. Plus, tracking this data can ensure optimal savings offers can be updated quickly behind the scenes without worrying about outdated printed coupons confusing patients.
Now that the conference has wrapped up, our team is eager to get back to work supporting brands through their copay programs. Leveraging these learnings alongside the robust data, innovative technology, and extensive patient and provider reach that ConnectiveRx is already known for can help our partner brands achieve their strategic patient support goals. Learn more about Hub Services and Affordability.